Judicial Reforms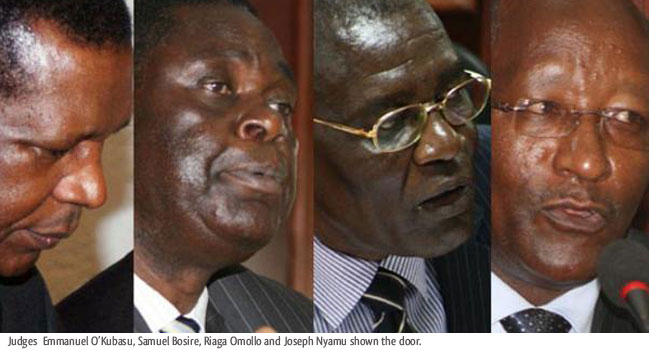 Reforms in different institutions are among promises that came with the promulgation of the new constitution. With the recent report on the vetting of judges, Kenyans can comfortably say that this promise has been kept, at least in the Judiciary.
Four Court of Appeal judges were declared unfit to serve following reviews of their previous works and involvements in judicial misconduct. Chairman of the Judges and Magistrates Vetting Board, Sharad Rao, read out the names of the judges that had their careers end at the most unexpected time.
The named judges are among them, Justice Emmanuel O'Kubasu, who was accused of accepting "gifts" from litigants, Justice Riaga Omollo who was accused of authoritarianism on the Bench and inconsistency in his judgments of political cases. He also failed to show impartiality during the government of former president Moi. The case of Kenneth Matiba was cited where the judge castigated him in what was referred to as 'ungenerous, uncalled for manner', which manifested no sensitivity as he could have been paralyzed as a result of the torture. Justice Samuel Bosire was accused of condoning torture of suspects during 1982 coup trials. He was also indicted for failing to summon the former president who was adversely mentioned in the Goldenberg scandal when he served as chairman of the Commission of Inquiry into the multi-billion shilling scam. On his part, Justice Nyamu was accused of lacking professionalism, candour and was a stumbling block in the fight against corruption. In one instance, he issued a permanent stay against the prosecution of George Saitoti over the Goldenberg scandal.
The fact that the vetting was done in private has however raised the argument of whether the proceedings should be made public or not. This is still subject to discussion as Sections 19(2) and (5) of the Vetting of Judges and Magistrates Act have to be changed to allow for such a provision.