Voter Registration Begins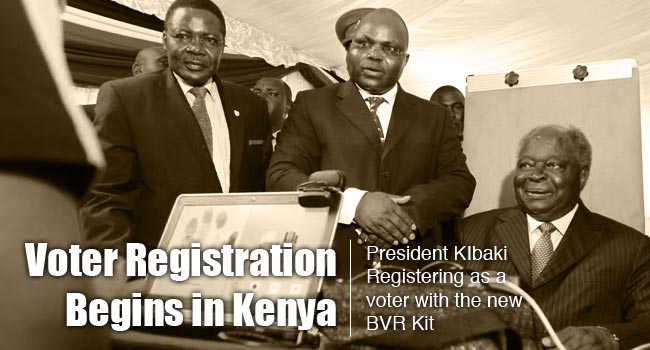 With the arrival of the Biometric Voter Registration Kits, a 30-day voter registration kicked off countrywide on Monday. The Independent Electoral and Boundaries Commission's (IEBC) target is to register at least 18 million voters. A total of 29 000 voter registration clerks have already been trained for the exercise.
The BVR Kits are expected to help curb election fraud by improving on the integrity of the registration. A voter's fingerprint and photograph are taken to ensure that the ones registering are the ones who will turn up to vote. The Biometric voter registration uses fingerprints and facial features to uniquely identify each voter. So Kenyans will only be required to produce their national identity cards during the voting process, in a move that is a major break from the past.
The Kshs 7 Billion Electronic Biometric Voter Registration Solution allows the IEBC to:
Register voters "in the field"
Issue different types of voter ID cards (Laminated paper, or high-quality PVC) in the field or from headquarters
Store data in a reliable and secure manner
Search for duplicates based on multi-biometrics
Manage the database and produce reports, including the final voter registry
Issues like double registration, ghost voters and double voting should bot feature anymore with the adoption of this system. During the last elections, which resulted in the infamous post election violence, the manual voter registration was faulted by many observers as being one which was open to rigging.
The electronic registration process is taking place at 25 000 centres countrywide. Churches, schools, trading centres and markets will serve as registration centres. Registration will take place everyday, including Saturdays and Sundays from 8am to 5pm. All Kenyans are being encouraged to show up and register, irrespective of whether or not one has registered before in the past. There will be no extension after the 30 days, expected to end on the 19th of December. This is because there is a law that says that registration must conclude 60 days before the election, which is now scheduled for March 4th.
Meanwhile, the President has assured Kenyans of security during the registration process and has warned would be troublemakers against trying to disrupt the Voter Registration. There are some reports that the MRC are currently suing the IEBC, claiming that the commission doesn't have the legal authority to demarcate constituencies and wards in Coast Province, because they believe that the province was never legitimately incorporated into Kenya.