International Women's Day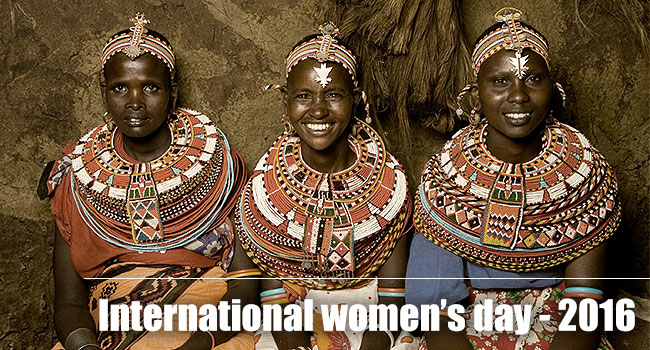 The International Women's Day, which is marked every 8th of March is a day to celebrate the political, economic, and social achievements of women around the world. This year it coincided with the marking of Millennium Development Goals (MDGs), and hence a good point of reference to highlight some of these achievements done by women, especially in Kenya.
Political achievements
Politics has for the longest time been viewed as a reserve for men in society. Women have however proved to be equally capable of handling political heat. In Kenya, the Constitution has enabled women to be propelled into the limelight by providing positions of leadership and by underscoring the importance of women's involvement in leadership matters. The introduction of the 'Two-thirds Gender Rule', put there to promote gender equality and to empower women, has ensured that women's presence has been felt in most positions of leadership, including a significant presence in the General Assembly.
Women empowerment, especially through education, has also contributed to the presence of female political aspirants for different positions. These include Members of Parliament and Senators. Some women have even found the courage to vie for the Presidency. Initially very few women qualified for such positions due to lack of education and/or experience. Women have gotten exposure through education and are now confidently applying for political positions.
Kenya's President, H.E Uhuru Kenyatta has named six female Cabinet Secretaries in his government in a move meant to empower women and involve them in the decision making processes of the country. In light of the Millennium Development Goal of promoting gender equality and empowering women, Kenya is well on course when it comes to the Political Arena.
Economic
In Kenya there are many initiatives that have been set up to help empower women. Some of these are supported by the government, while others by private investors aiming at boosting women activities and their proficiency, as well as eradicating extreme poverty and hunger.
President Kenyatta, through his ruling party promised to give women and youth in Kenya grants that would help them to set up businesses. The promised money is what would have been used in the case of a run-off after the Presidential elections in 2013.
The government is not the only one working to empower women economically; there are other non-governmental initiatives aiming to empower women. One notable NGO is the Joyful Women Organization, which is led by the Deputy President's wife, Rachel Ruto. It aims to empower women economically as well as to enhance general household food security by supporting their involvement in livelihood projects through the table banking scheme. This scheme gives women access to financial resources while supporting investment growth.
There are other International NGOs that work with women especially in the grassroots areas where the government may not have the capacity or resources to reach. These NGOs teach agricultural skills that help women and young people have a sustainable livelihood by planting and selling produce.
The fight against HIV/AIDs has also been a way of empowering women economically because access to medicine will allow them to keep up with their daily economic activities. The Government's efforts to provide antiretrovirals (ARVs) and an education on how to avoid contracting and spreading the virus, has contributed in the improvement of women lives and livelihood.
We also have success stories of women like Ms. Tabitha Karanja, Proprietor of Keroche breweries, who have worked hard and have managed to build successful companies in competitive industries. This has been an encouragement for other women entrepreneurs to follow suit.
Societal
Women in Kenya have experienced societal successes in different levels. For instance, there are numerous campaigns against cultural practices that are considered retrogressive to women. These include female genital mutilation (FGM), domestic violence, which in many cases affects the women and children, sexual harassment and denied opportunity to an education. The government's initiative to offer free education has made it possible for more girls to attend school and to have careers of their choice.
Kenya's first lady H.E Margaret Kenyatta has been running a campaign dubbed 'Beyond Zero', which aims at improving maternal health and ensuring that there is an end to both child and maternal mortality. She has challenged many women and men to stand in the gap for others who are less fortunate in our society. She has also been able, through the help of well-wishers, to acquire mobile clinics to be distributed to several counties. The hope is to get enough for all 47 Counties. This is not a simple one-day activity and it also happens to be a very expensive affair, however, the First Lady's determination and motherly love has made it possible, one step at a time.
There are other organizations that have come up with programs to educate women on how to take care of themselves especially when they are pregnant. These programs have been of great help especially in the rural areas where access to medical care in hospitals is not readily available. More women both young and old have now received the opportunity to learn how to better take care of themselves. This is especially in regard to their health and the relationships they have with men in their different societies and cultures.
There are individuals who have taken it upon themselves to initiate programs aimed at helping women by rescuing them from some cultural activities that would be an abuse of their human rights. Hon. Lina Jebii Kilimo is one of those individuals. She has been fighting against female genital mutilation (FGM) through her foundation. Having come from a community that practiced FGM as part of its culture, it took more than courage to resist the practice herself and still continue on to fight for other women. The added advantage of her being a member of parliament is that she is now in a position to push for laws that will criminalize a practice considered barbaric and inhuman to women.
Another lady is Ms. Kulea who also has a foundation in Samburu that rescues young girls from both early marriages and FGM. She ensures that the girls get counseling and an opportunity to go to school without fear.
In the recent past, women in the City faced a wave of sexual harassment brought about by a dispute over the manner and choice of dress. The victims were accused of being poorly dressed and were subjected to unspeakable treatment by some filthy and uncultured men. However, women in Nairobi got together and fought for their freedom of expression. They held demonstrations and got the attention of the country's leadership, which resulted in a Parliamentary discussion on the security of women in the country. The women won a victory for all women. Their voice was heard and action was taken by police to ensure that there was security for women in the city streets and other public areas.
Conclusion
Women are like the backbone of society. They hold the family unit together and are beyond important in their contributions. It is said that when you educate a girl, you have educated an entire community. This means that they hold the family and society at large together in more than one way. The role of the woman is not simply to give birth and stay in the kitchen cooking for everyone else, instead she has more she can offer to society, especially when empowered and given the opportunity.
We celebrate all the women in Kenya who have in their own way, big and small, made a difference to society. We've already mentioned some important women who've done great things in society, but we cannot fail to appreciate the other women whose contributions are not immediately noticed by many, such as midwives in rural areas and the others there who touch lives by helping others in their small yet amazingly significant way.