Religious Persecution in Ethiopia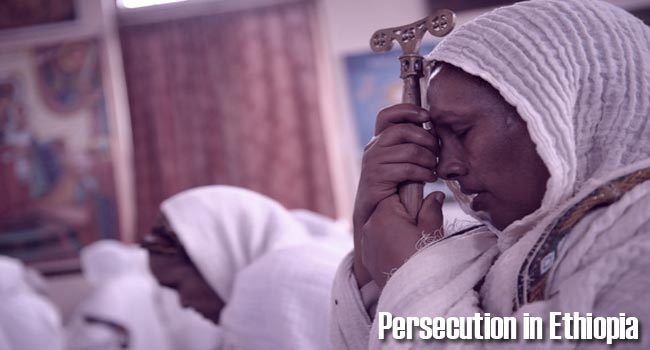 The country's population is largely Christian. Though this may be the case, several instances of persecution directed towards Christians have been reported in various parts of the country. The examples below comprise of various case scenarios of persecution on religious grounds experienced in Ethiopia:
In May 2009, an Ethiopian Christian was jailed for providing Muslims with Somali-language Bibles with covers that resembled the Qur'an. He was released in February 2010. After spending four months in jail, an Ethiopian Christian was sentenced in December 2010 to three years in prison for allegedly desecrating a Qur'an.
At least 11 people die and more than 50 churches, nearly 30 houses, a school and an orphanage along with other Christian-own buildings destroyed by rampaging Muslims in Ethiopia
July 2010 - 80 Christians left homeless when 25 Muslims burnt down ten homes near Jimma.
August 2010 - a Christian is arrested in the southern town of Moyale, accused by a Muslim coworker of inscribing, "Jesus is Lord" on a cloth. A local imam then testifies that instead it had been written on a Qur'an. Without evidence of these charges, the Christian is sentenced to 3 years in prison. He is then transferred to Jijiga Prison, which is governed according to Sharia and where his life is in jeopardy unless he converts to Islam.
November 2010 - a Christian man is sentenced to three years in prison, after Muslim friends accused him of writing, "Jesus is Lord" on the Qur'an.
February 2011 - Christians are harassed and physically abused in Besheno by Muslims, after posting notices to convert to Islam or face death if they don't leave the city.
17 Christian college students stoned and beaten with rods by attackers shouting "Allah akbar!" after trying to distribute Bibles in a village.
Muslim mobs in the south Ethiopian city of Besheno put death threats (if they don't convert to Islam or leave the city) on the doors of Christian villagers, take away church property, and beat evangelists, killing family members. Several church leaders have either left the city or been forced to convert to Islam.
International Christian Concern reports that in Jimma Province, a Muslim majority area of the country, 69 churches (at the time of this writing), a school, an orphanage and an office have been burned and two Christians were killed and several wounded. Muslims framed Christians for allegedly desecrating a Qur'an and then started attacking. Police have not responded. 10,000 Christians have fled western Ethiopia.
Elderly Christian leader assaulted in Asendabo, Jimma by armed Muslims who entered his house. When his grandson rushed in to intervene, the attackers turned to attacking the young man who sustained machete wounds. The family got him to a hospital 3 hours away.
Churches and homes burnt down in by mobs in the Jimma region, leaving 10,000 people displaced, many living in the bush, in a strategically planned attack by an extremist Muslim group.
More Sources:
http://www.persecution.net/ethiopia.htm
http://ms-dee.hubpages.com/hub/Persecution-and-Holocausts-Ridding-Saudi-Ethiopia-of-Christians