Terrorism in Kenya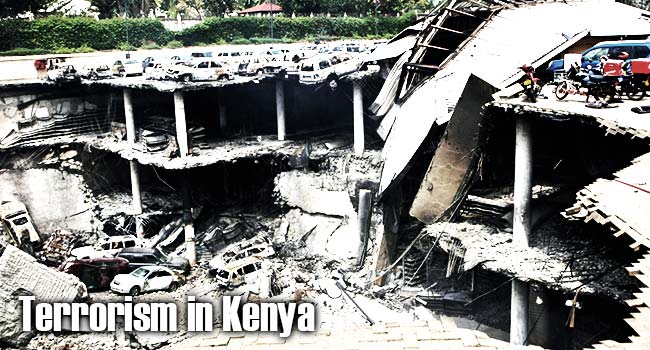 The events of 21st September 2013, have left indelible memories to Kenya as a Country and further raised more cognizance on the dire need of combating terrorism. On this day, Westgate mall in Nairobi was invaded by unidentified gunmen and were engaged in mass shooting which according to reports, left about 67 people dead over 150 injured; including civilians, the police and military. More than thirty persons are reported to be missing. The assault lasted for four days.
During the attack, the Al-Shabaab claimed responsibility and acknowledged that it was retaliating for the Kenyan military's involvement in the Somalia peace keeping efforts. Reports further state that Kenya had been earlier warned of an eminent attack and to this effect Parliament has launched an investigation in order to ascertain the lapses in the Country's security system, which may have led to the attack.
This is not the first time that Kenya is experiencing terror Attacks that have claimed the lives of many and threatened to devastate the Country's economy.
On 8th August 1998, the United States Embassy in Nairobi was bombed leaving approximately 212 people dead and 4,000 injured. The bombing had been planned by al Qaeda to mark the eighth anniversary of US forces' arrival in Saudi Arabia. The main target was Americans but most of the casualties were Kenyans.
In 2002 November 28th, an attempted missile attack on an Israeli owned plane failed in Mombasa. However, a car carrying explosives smashed through a barrier of Paradise Hotel in the coastal town as it received 60 Israeli tourists checking in. Ten Kenyans died in the attack and three Israelis, two of them children. The attack was blamed on militant groups linked to an organization called Al Muhajiroun.
On March 10th 2012, a blast at a bus terminal left nine dead and sixty others injured. In another incident, at least 30 people were injured in an explosion that rocked an exhibition stall next to Mt Kenya University Campus along Nairobi's Moi Avenue Street on 28th May 2012.
On Sunday, 1st of July 2012, twin grenade attacks occurred simultaneously at the Garissa Catholic and AIC churches leaving sixteen dead, amongst them two police officers manning the church, and sixty six others injured. The attackers also used two firearms to open fire at the congregation.
These heinous acts of terrorism have not only affected Kenyans by robbing them of their loved ones and leaving them traumatized, but also the economy of the country has been greatly affected. For instance the tourism sector has suffered a major blow as some members of the International community have issued travel advisories to their citizens who may have been planning to come to Kenya. The missile attempt in Mombasa in 2002 resulted in the cancellation of all flights from Israel to Kenya indefinitely. This was also a blow to tourism in Kenya. The attacks against Kenya may lower the chances of having investors coming in as the security of the country is also a factor that is highly considered in the business world.
In Kenya, Terrorism is covered by the Prevention of Terrorism Act (Act 30 of 2012) which was promulgated on 24th October, 2012. It creates over 30 offences and provides for special powers of arrest, procedures to gather information and even limits certain rights when conducting investigations. It also provides compensation for terrorist victims, while the people involved in terrorist activities risk 30 years in jail if they commit a terrorism act or a life sentence if the act leads to death of another person and their properties seized. Those that assist terrorists risk 20 years in jail. Stiff penalties for joining a terrorist group are also provided.
The Compensation of Victims of Terrorism Fund will be funded from disposal of property seized from terrorists as well as fines imposed on those convicted. It also contains provisions that require phone companies to intercept communications in the course of investigations. Banks and financial institutions will also report to the Central Bank, giving details of transactions involving accounts and properties owned by groups or suspects flagged by the government after every three months. Surveillance with the intention of carrying out terror attacks is deemed as criminal under the Bill. For instance, those caught filming buildings and other likely terrorist targets face a maximum of 20 years behind bars.
More stringent legal measures need to be imposed in the country in order to compliment the above law and end the loopholes that will subject Kenya to any future terror attacks.