EACLJ now an Election Observer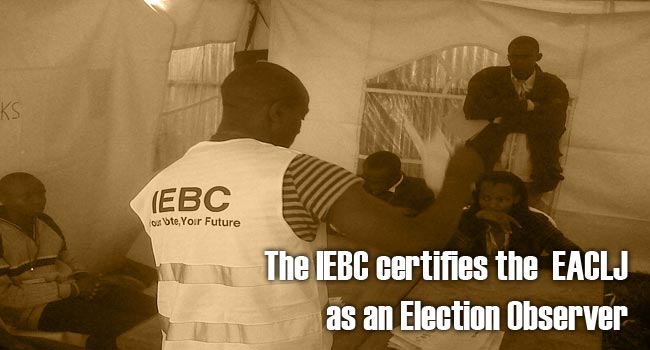 Following an invite of applications by the Independent Electoral and Boundaries Commission (IEBC) in conformity with international best practices and in the spirit of accountability and transparency in carrying out its activities, to various organizations that wished to be accredited as long term observers in the forthcoming elections, the East African Centre for Law and Justice emerged among the successful applicants.
Election monitoring is the observation of an election by one or more independent parties, typically from another country or a non-governmental organization (NGO), primarily to assess the conduct of an election process on the basis of national legislation and international standards. There are national and international election observers. Monitors do not directly prevent electoral fraud, but rather record and report such instances. Election observation increasingly looks at the entire electoral process over a longer period of time, rather than at election-day proceedings only. The legitimacy of an election can be affected by the criticism of monitors, provided that they are themselves seen as unbiased. High standards are expected of them in terms of their professional and personal conduct. A notable individual is often appointed honorary leader of a monitoring organization in an effort to enhance its own legitimacy. Monitoring the election campaign provides an opportunity to assess respect for fundamental freedoms and the commitment of state institutions to conduct an election according to accepted democratic principles, specifically the equal and fair treatment of all election subjects.
The East Africa Centre for Law and Justice is now certified to act as an observer in the ongoing electoral processes. The following are some activities among others that are expected of election observers:
Voter Registration
Voter Education
Election logistics
General Elections
By participating in the observation process, East Africa Centre for Law and Justice will ensure transparency in the electoral process and that integrity is upheld in the conduct of this process. This is in order to avoid a recurrence of electoral-related violence as lack of transparency and accountability hinders governance that is democratic.
Democracy is about far more than elections. However, the holding of transparent, accountable and credible elections is an important cornerstone of the democratic process in any country, and election observers can make a significant contribution in this process.