The Multi Sectoral Forum II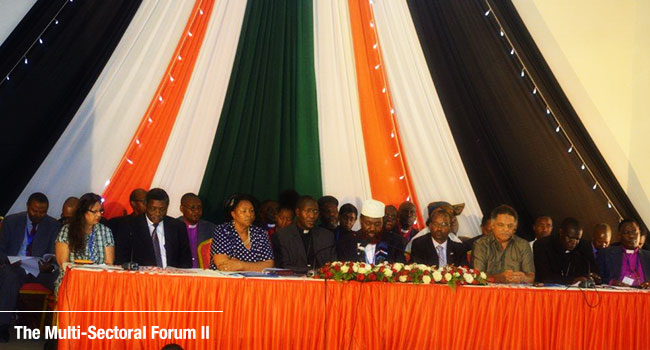 The East Africa Centre for Law and Justice was privileged to participate in planning and convening the Multi-Sectoral Forum II together with other like-minded organizations, where more than six hundred delegates gathered at the Christian Students' Leadership Centre, Ufungamano House to deliberate on the 2017 General Elections. The Multi Sectoral Forum (MSF) is a distinguished assembly of the leadership of different sectors of Kenya, convened by religious leaders, to deliberate on matters concerning governance, elections management and the country's preparedness for the August 2017 General Elections. EACLJ's Advocate, Melissa Lukulu, was part of The Dialogue Reference Group meeting, a task-force that was appointed to discern and consolidate the views of non-state actors on electoral preparedness for presentation at the Multi-Sectoral Forum II.
The Multi-Sectoral Forum culminated in assessing electoral preparedness in Kenya and developing necessary interventions through robust deliberations. As a result, members fronted recommendations of specific actions for perusal by the Judiciary, Parliament, Executive Media, Electoral Governance institutions and the general public with the view of fast-tracking the electoral process so as to ensure the August 2017 elections are peaceful, free, fair and credible.


Click here for a communique on the Multi Sectoral Forum II dialogue on Kenyan Election Preparedness