Christians Under Attack In Mombasa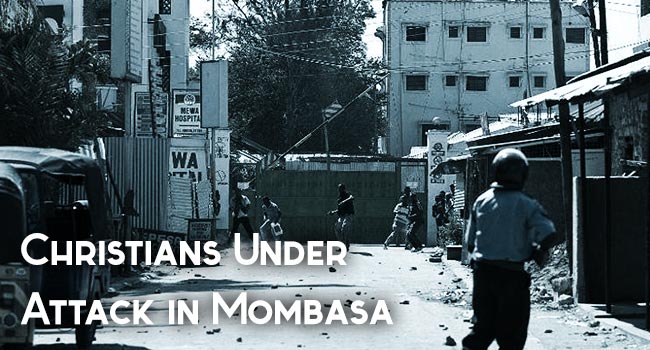 Mombasa residents were left in shock and confusion when gunmen attacked a church in the Majengo area. The residents of Majengo are now living in fear after an associate pastor of a Local Church, the Maximum Revival Ministries, was killed by unknown gunmen as he entered the church on Sunday, 11th January 2014. Pastor George Karidhimba was shot at severally from the back, causing him to die instantly. Police reports reveal that the gunmen intended to attack the congregation, but this was fortunately interrupted when police manning the church compound responded by firing back at the attackers.
Although the police launched investigations to find out who the gunmen were, the attack has birthed fresh fears of insecurity and possible religious persecution in the area. This attack came soon after the festive season, a period during which the security in Mombasa and Nairobi had been tightened to ensure that such attacks do not occur.
In the past, the Majengo area has been highly volatile because it has been a target of radical Muslim militants retaliating against police raids in the on-going war against terror. Last year, the Kenya Police had raided various mosques in Mombasa as they tried to purge the city of radical youth sympathizers. Various weapons including grenades were recovered. Approximately 250 youth were arrested and one person killed during that operation. The residents of Majengo have previously received threats from Al-Shabaab supporters who have threatened to kill pastors in retaliation for the deaths of their Sheikhs.
Following this incident, a directive from the police to have all churches and areas of worship under surveillance by both uniformed and civilian clothed offices to avert criminal attacks has been passed. Churches in the area have also recruited youths to help provide security. The church, Maximum Revival Ministries has since changed venue for their services citing worsening security in the area and the trauma that their members faced during the gun attack.
Recently, the government has proposed tough security laws aimed at ensuring that all terror attacks are stopped and that all Kenyans can feel safe at all times. However the Security Laws Amendment Bill, 2014 has proved to be controversial with many claiming that in its current state, it might infringe on Human Rights, resulting in pulling the country backwards rather than making progress.
Also, the escalating situation in Nigeria with Boko Haram, the Islamic Militia intent on starting a religious war, may have played a part in forcing the Kenyan Government to come up with these laws that have been aimed at averting all kinds terror attacks.
Kenyans have been asked to be vigilant at all times and to alert the police of any suspicious activities around them in order to help ensure their safety.