President Kenyatta's ICC Case Withdrawn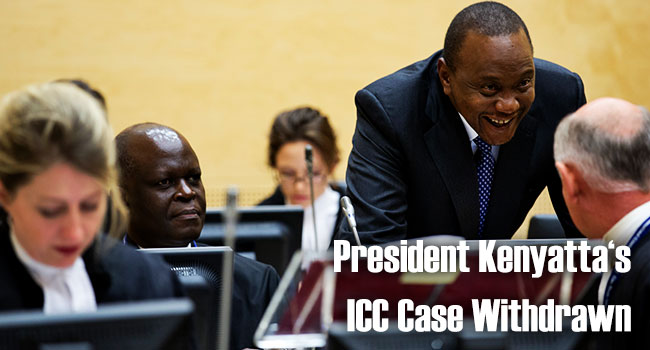 ICC's Prosecutor Fatou Bensouda today withdrew the charges Kenya's President Uhuru Kenyatta was facing at the International Criminal Court. The Trial Chamber Judges had directed the Prosecution to file a notice within one week to indicate its decision on whether they will withdraw the charges against the President or proceed with the trial, on the basis that the evidence had improved to a degree justifying this.
Ms Bensouda said the following in her application to the court:
In light of the Trial Chamber's 3 December 2014 "Decision on Prosecution's application for further adjournment", the Prosecution withdraws the charges against Mr Kenyatta.
The evidence has not improved to such an extent that Mr Kenyatta's alleged criminal responsibility can be proven beyond reasonable doubt. For this reason, and in light of the Trial Chamber's rejection of the Prosecution's request for an adjournment until the Government of Kenya complies with its co-operation obligations under the Rome Statute, the Prosecution withdraws its charges.
As noted by the Trial Chamber, this withdrawal is without prejudice to the possibility of bringing new charges against Mr Kenyatta "at a later date, based on the same or similar factual circumstances, should [the Prosecution] obtain sufficient evidence to support such a course of action".
Ms Bensouda called it a "dark day for international criminal justice" and laid blame squarely on the Government of Kenya for what she called a "failure to cooperate fully and effectively with (her) investigations in (the) case". The Prosecutor was keen to stress that the withdrawal of charges did not mean an acquittal and that the case could be re opened or brought in a different form should new evidence be discovered.
The President released a statement saying that he was 'excited' by the Prosecution's decision. The defence lawyers have denied Ms Bensouda's claims stating that the government has complied sufficiently with the Prosecution's request and that Uhuru is entitled to a no guilty verdict.
President Kenyatta's journey to the ICC can be traced back to the 2008 post-election violence when 1,133 people were killed and more than 600,000 displaced. He was facing charges of being "criminally responsible" as an indirect co-perpetrator for crimes against humanity.