Tanzania Elects A New President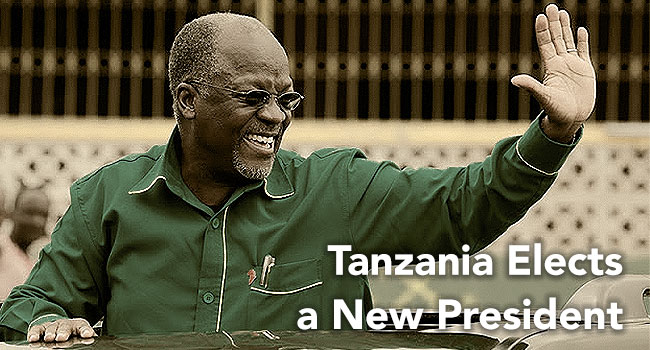 Dr. John Pombe Magufuli has been voted in as Tanzania's new President. The win means that Tanzania's ruling party Chama Cha Mapinduzi (CCM) maintains its half a century long grip on power for at least five more years.
Dr. Magufuli has been a CCM stalwart for a number of years, but was never part of the inner circle. Few expected him to win the nomination. Mr Edward Lowassa, a former Prime Minister with the ruling party, was widely expected to be CCM's flag bearer for these elections. But political intrigues and other circumstances saw his name dropped from the nomination list. This prompted Mr Lowassa to defect and seek for the Presidency on an Opposition ticket.
Some observers feel that the Tanzanian opposition may have erred in choosing Mr Edward Lowassa to be their Presidential candidate. Mr. Lowassa has been in government for a number of years and in various capacities, but in that time he has been dogged by allegations of corruption. In 2008, Mr Lowassa was forced to resign from being Prime Minister after a parliamentary inquiry implicated him in an energy deal corruption scandal. His friend, outgoing President Jakaya Kikwete, accepted his resignation in light of public anger over the scandal. Mr. Lowassa denied any links to the scandal and suggested that the Parliamentary Committee that was doing the investigation had been given the wrong information.
In contrast, Dr. Magufuli comes with a reputation of being corruption free.
Mr Joseph Warioba, a former Tanzanian Prime Minister, had this to say to the AFP News Agency about Dr. Magufuli's time in Government. "He was for many years minister for works, supervising execution of mega projects worth trillions of shillings, but was never implicated in any corruption scandal. He could have been the richest politician in the country".
Knowing that Tanzanians had grown impatient with corruption in Government, Dr. Magufuli successfully sold himself to the electorate as an honest and hard-working man. His campaign billboards referred to him as "the ethical one". He has vowed to fight corruption - an issue which had driven many voters to support the Opposition.
Dr. John Magufuli is a devout Catholic who is known to uphold traditional family values. The 56 year old also happens to be one of Africa's better educated leaders. He has a Doctorate in Chemistry from the University of Dar es Salaam.
According to official results, Dr. Magufuli won the election by getting 58% of the vote. His closest competitor was Mr. Edward Lowassa with 40% of the vote. The Opposition, the Ukawa Coalition, are yet to accept the election results, citing rigging and other irregularities. However under Tanzanian Law, once the official results are announced, the Presidential Vote tally cannot be contested in court. A 55 member East African Observer Mission, which is led by one of Kenya's former Vice Presidents Mr. Moody Awori, wants the Tanzanian Government to review the Constitution to allow for an acceptable dispute management mechanism.
Observers from the EU and other parts of Africa deemed the election to have been largely free, fair and well organized.
The Opposition however succeeded in getting more parliamentary seats than they had ever done before.
Meanwhile in Zanzibar, the elections there were annulled after the Zanzibar Electoral Commission (ZEC) Chairman Jecha Salim Jecha claimed that there were too many irregularities and other violations such as double voting for the results to stand. Zanzibar is a semi autonomous region that elects its own local government, including a President. Fresh polls will be called on a date to be announced later.