Election Offences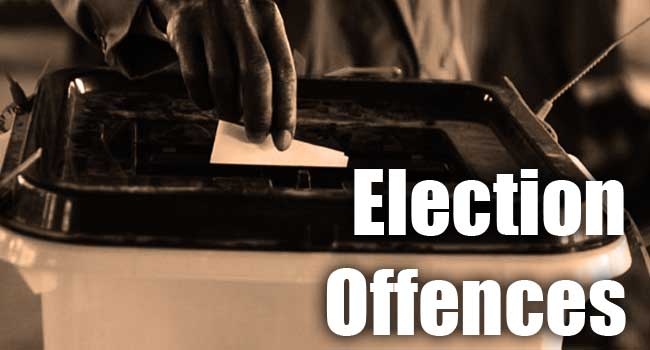 As we near the General Elections, it is important for every citizen and voter to recognize and understand the election offenses to shun and condemn them. Election offences will lead to warning, disqualification, prosecution or imprisonment as provided for by the Law.
There are different categories of Election Offences in Kenya. They include:
Offences in relation to registration of voters and voter's cards,

Offences relating to multiple registrations as a voter,

Offences relating to voting,

Offences by members and staff of the commission,

Personation,

Undue influence, bribery, use of force or violence during the election period among other illegal practices.
This article highlights some of the offences that you, as a Kenyan citizen need to be familiar with.
The following include some of the offences punishable by law
Double/multiple registration: your name appearing more than once on the voters' register

Having more than one voter's card

Impersonation: the use of another person's voter's card

Selling or buying voter's card. Do not exchange your card for money, food, beer or any other gift, you will be selling your ethics and your democratic right

Deliberately destroying a voter's card

Carrying another person voter's card
Offences relating to voting
Voting more than once

Carrying out campaigns on the polling day

Soliciting or receiving bribes to encourage voting for a candidate

Hate speech targeting the opposing side

Destruction of campaign materials of the opposing candidate.

Use of another person's elector's card and ID to vote

Prevention, obstruction or barring of a person from voting
Use of force or violence during election period
A person who, directly or indirectly in person or by any other person on his behalf, inflicts or threatens to inflict injury, damage, harm or loss on or against a person—
so as to induce or compel that person to support a particular candidate or political party;

on account of such person having voted or refrained from voting; or

In order to induce or compel that person to vote in a particular way or refrain from voting, commits an offence and is liable on conviction.
Offences relating to elections
making or publishing any false statement of withdrawal of any other candidate at such election; before or during any election, for the purpose of promoting or procuring the election of any candidate,

forging, defacing or destroying any ballot paper, or delivering to a returning officer any ballot paper knowing it to be forged;

interfering with election material by removing, destroying, concealing or mutilating or assist in the removal, destruction, concealment or mutilation of any such material save on the authority of the Commission

directly or indirectly printing, manufacturing or supplying or procuring the printing, manufacture or supply of any election material in connection with the election save on the authority of the Commission

Entering or remaining in an election centre or in any area designated by the Commission for electoral purposes contravening the law.
Role of citizens
It is your duty as a citizen to -
Report election offences as soon as possible to Designated IEBC Security Officer's desk, Designated Peace Committees or the nearest Police Station

Conduct campaigns in a peaceful manner and to always adhere to the laws, rules and regulations guiding elections in Kenya

Participate in peaceful elections by voting on the 4th of March 2013

Pray for our country