Bensouda's Visit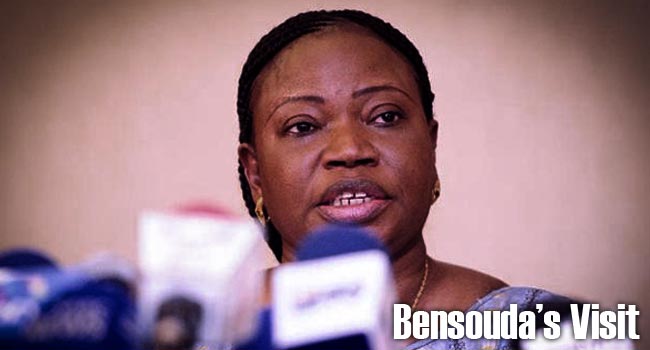 The International Criminal Court (ICC) prosecutor's anticipated five-day visit to Kenya came to a final point last week after she had addressed what was believed to have been the core matters that had triggered her jetting into the country in the first place.
Through a press conference, Fatou Bensouda informed the public that the ICC was fully convinced that the four suspects against whom charges had been lodged at the criminal court had a case to answer.
The prosecutor further clarified that contrary to what many Kenyans believe; the ICC is not prosecuting the government or any ethnic community. She pointed out that the ICC was not in Kenya to eliminate a particular political candidate but rather, Kenya being a signatory to the Rome Statute gave the ICC process its legitimacy.
Bensouda called for cooperation from Kenyans as she expressed concerns that the Government had delayed in submitting information that was important in facilitating the trial against the four suspects. She also sought the assurance that witnesses would be accorded adequate protection as she issued a stern warning against individuals threatening the court's witnesses and their families.
The ICC Prosecutor gave the government up to the end of November 2012 to submit all the requested information to enable her to establish a strong case against the four ICC suspects. She pointed out that the prompt submission of this evidence will enable her to give the four suspects a fair trial at The Hague.
Bensouda also met victims displaced by the post-election violence in Nakuru. She reassured them that the trial of Kenyan suspects in the court is not connected to the upcoming general elections.
In a meeting with President Mwai Kibaki and Prime Minister Raila Odinga, Bensouda acknowledged assurances from the two principals that civil servants and police will testify at the ICC as witnesses. The prosecutor added that the responsibility of prosecuting mid-level commanders and those who perpetrated the actual attacks was upon the government of Kenya reiterating that it was impossible for the ICC to prosecute everybody.
One controversial impasse surrounding the 2013 General Elections is that two ICC suspects; William Ruto and Uhuru Kenyatta are contesting for presidency. Upon questioning uncertainty, Bensouda pointed out that ICC prosecutors will not hesitate to seek the court's help if the Government or the accused in the Kenya cases fail to co-operate over next year's trials. Warrants of arrest would be issued if Uhuru Kenyatta and William Ruto fail to comply with court directives if elected President in the coming General Election. She explained that if elected President, the two accused would be expected to attend to the trials at The Hague.
ICC prosecutor has sought to distance herself from Kenya's domestic political scene articulating that ultimately, Kenyans bear the responsibility if deciding the outcomes of the elections and the future of the country. At this point, one thing remains clear, the court is not ready to meddle in the country's political affairs but to ensure that justice is served to all the victims of the post-election violence