High Court Rules on New Security Bill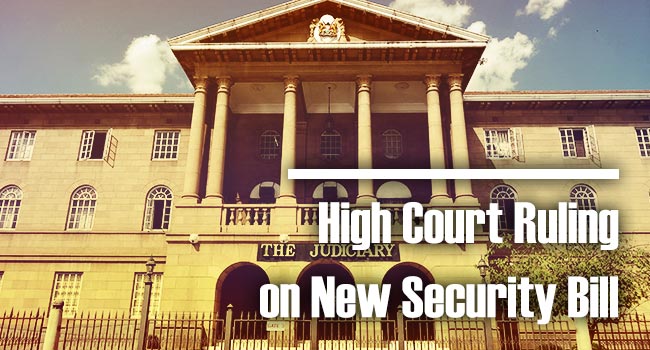 The High Court of Kenya ruled on monday that several sections of the Security Laws (amendment) Act 2014 were unconstitutional. President Uhuru Kenyatta had in December signed into law the controversial security bill after it had been passed in a very chaotic Session of Parliament. The opposition and other civil bodies later opposed it in Court. The Law had amended 22 other Acts of Parliament in matters to do with National Security.
The five Judge bench nullified 8 clauses of the Act in their verdict. They overturned the restrictions on media, as these were found to violate the freedom of expression and the freedom of the media as guaranteed in the Constitution. The Bill had prohibited the media from reporting on matters that were still under investigation and from reporting on Security Operations.
The Court also nullified the Sections touching on the right to a fair hearing. These would have given the Prosecutor power to withhold evidence and the power to frustrate someone trying to be released on bail. In addition, the Court found that the Section which limited the number of asylum seekers and refugees allowed to stay in Kenya had violated the 1951 UN Convention in the Status of Refugees, which happens to be part of the laws of Kenya, as stipulated in the Constitution.
The Government, responding through the Spokesman Manoah Esipisu, argues that the new law was in response to the "shifting security requirements needed to keep Kenya safe". The Spokesman said that Government believes that the clauses nullified are necessary in its efforts to keep Kenya safe and that it is currently studying the implication of the ruling to determine whether they will appeal the decision or return the clauses to parliament with the necessary modifications. He was keen to stress that the Government respects the decision of the Court. He noted that this was a large bill and that the Court had in fact left about 90% of it intact.
Organizations in the Civil Society and the Opposition had contested 20 clauses in the Act which they felt were unconstitutional. CORD and KNHCR wanted the Court to throw out the law on the basis that it was unconstitutional and untenable given the nature of debate that passed it and that neither the Public nor the Senate had any input on it.
CORD leader and former Prime Minister Raila Odinga in a statement congratulated the Court for the ruling. He said that even though the Court didn't agree with them on every matter they presented, he was happy that the Court stood up for the Constitution. Mr Odinga said that in doing so, the Court had asserted its Jurisdiction to supervise, ensuring that the Constitution was being adhered to.


Click to Read and Download Ruling the High Court Ruling:
Click to Read and Download the Security Laws (Amendment) Act: