Christian Leader's Consultative Forum Press Statement on Garissa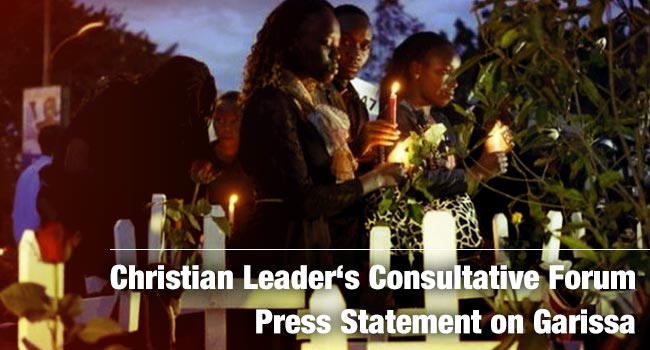 CHRISTIAN LEADERS' CONSULTATIVE FORUM
Press Statement:
Standing With The Christian Faith
1. Preamble:
We church leaders from various Christian organizations have today met here at Jumuia Place to review and chart the way forward in view of the incessant and well orchestrated campaign against the Christian faithful in the country that has been blamed on terrorism.
During this forum, we have deeply reflected on these attacks and taken note of the glaring lack of coordination and commitment within the government to deal with terror. We also took time to review the blatant violation of the rights of Christians to life itself and enshrined religious freedoms. We therefore would like to share the following message with the nation.
2. Condolences Following Garissa Attack
We wish to restate our messages of condolence shared with the bereaved families and friends who lost their loved ones following the cowardly terror attack on young and innocent lives at the University of Garissa. We continue to pray and mourn with our brothers and sisters who were affected, even as we condemn those responsible. We also remember the family of the student who died and those injured during the recent stampede at Kikuyu Campus over terror scare.
It is our prayer that the families may find solace in the biblical words of Revelation 21:4 - "And God shall wipe away all tears from their eyes; and there shall be no more death, neither sorrow, nor crying, neither shall there be any more pain: for the former things are passed away."
3. Message To Christians
The Church leaders and Christians in general consider the people killed in Garissa on account of Christianity as Martyrs. And as such, a memorial monument should be built in Garissa and other places with the names of those killed in their honor.
4. String of Attacks on Christians
Having reviewed the available data since the first terror incident in Kenya in 1975, to the latest mass murder in Garissa two weeks ago, this meeting noted with concern the startling number of innocent lives that have been lost in the hands of terror groups.
Whereas those behind these attacks were seen as enemies without an outright agenda who only thrived on inflicting pain to their perceived enemies, the latest trend that has focused on Christians on a scale we have never seen before.It is not lost on us that during the 2013 attack on Westgate Mall, the attackers left no doubt who their targets were while executing their brutal mission. The same fashion was repeated during the 2014 Mandera bus attack and recently the Garissa University attack.
These statistics are in addition to the numerous attacks on churches where tens of people were killed and others maimed.
In all these scenarios, believers in Jesus Christ have clearly been the targets for death and maiming. It is naïve for anyone to imply that the so-called terrorism in Kenya is anything other than jihad against Christians.
5. Message to Muslims and Their Leaders
We have noted that all the attacks have been committed by people professing the Islamic faith. For many years, Christians in Kenya have offered a hand of fellowship to our Muslim brothers and sisters. We have been forthright and rational in our approach to inter-religious issues through our various structures. Major areas of collaboration have been in peace work and security in the country and the partnerships were fostered to withstand the radicalisation of Muslim youth. However, there has been a marked lack of commitment by the Muslim leadership to addressing the challenges in a forthright manner. The recent self imposed ultimatum by the Moslem political leadership to expose those with links to the Al Shabbab and other terror groups is a clear indication that they know more than what they are actually willing to reveal.
It is especially not lost on us that after a spate of grenade attacks around Eastleigh and neighbouring estates a year ago, the same leaders publicly told the bombers to go throw the explosives elsewhere, and the attacks ended.
This meeting further questions the timing of their stated position, especially coming after an attack of such magnitude. We therefore demand that North Eastern politicians under the leadership of Adan Duale, quickly avail to government the information they have on Garissa massacre and terror networks in the country if they are honest and mean what they say during their public pronouncements. Failure to do so can only mean that they are conspirators who hide under the veil of religion and political offices, who should be personally addressed for their culpability.
6. Message to the Government
Publicly available information indicates that the government had prior knowledge and intelligence of an imminent attack on the university before the unfortunate incident and massive loss of lives in Garissa happened. Various foreign missions in the country have corroborated the same and indicated that there was sufficient intelligence that was shared with government prior to the attack. The government on its part denies these revelations.
Regardless of the truth, the past performance of the government has time and again failed to take action to guarantee Kenyans and especially Christians of their security. We ask
the government to form a Commission of Inquiry into Garissa massacre, to determine how security agencies allowed such massive loss of life. We ask the president to review his intelligence gathering system and take appropriate action to redeem our homeland security.
How possible is it that only four security officers were assigned to the institution despite being a soft target in the most volatile regions in the country?
7. Proposed Amnesty for Radicalised Youth
While we appreciate the Amnesty extended by the government, to the those denouncing association with Al-Shabbab and radicalism and extremism, it should never be blanket, a framework of admission and conditionality set to avoid abuse and misuse. We need to remember that these youths being spoken about here willingly absorbed messages inciting them to kill Kenyans, they took the attendant oaths, and have in the past committed attacks in line with that radicalization. Any blanket amnesty is ridiculous and an affirmation that the government is officially abetting terrorism..
It is the greatest betrayal to Kenyans to ask us to accept avowed killers amongst us who have not gone through any demobilisation processes nor repented of their sins and crimes. The blanket amnesty does not even require them to denounce and reveal what the radicalisation entailed or who did it. Who is the government trying to protect? We believe that the government must take responsibility for atrocities committed to the people of Kenya through terrorism.
In this regard, we wish to remind the President that he has a constitutional mandate to protect the people of Kenya, who expect nothing short of that. Christians expect nothing short of quick arrest, prosecution and jailing of terror suspects irrespective of the offices they occupy in public or society.
We further remind the President that security and in particular homeland security is a highly sensitive issue and a priority to any sovereign nation. Given the frequent attacks and open persecution of Christians, the community is now wondering who the Kenyan government is for. Christians are looking for leadership that speaks to their plight and the president should demonstrate to Kenyans that he is actually in charge of the country and ready to protect all.
8. Conclusion
Christians have over the years been targeted for killing and maiming in the name of terrorism. We have often turned the other cheek, but now the cheeks have run out. The government must move with speed to definitively and openly punish the perpetrators of these attacks before Kenyans take the law in their own hands and foment an endless religious war that could expose many law abiding Moslems and Christians. In this regard, the government must make terrorism and radicalisation very expensive, so expensive that no family will condone their children engaging in it. No leader, regardless of the position they hold, should be allowed to support terrorism and still live outside the confines of prison.
Signed at Jumuia Place on this day of 15th April 2015 by Church leaders.

The Press Statement was made by Church leaders and Christian
Para-Church organization after a consultative meeting that was held in response to the recent killings of
Christians in Garissa. The Church and Para-Church Leaders were drawn from Evangelical, NCCK, Catholic,
Baptist, AEE, FOCUS, and participants had come from various areas in Kenya.