EVANGELICAL ALLIANCE OF KENYA (EAK) PRESS RELEASE ON GARISSA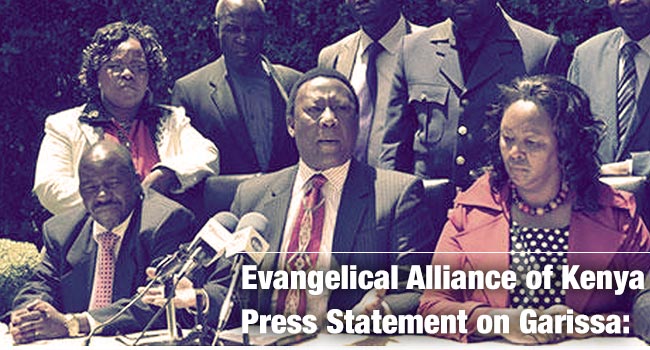 EVANGELICAL ALLIANCE OF KENYA (EAK) PRESS RELEASE ON GARISSA: (Issued 3rd April 2015)

Thursday, 2nd April, 2015 was a very sad day for Kenya, as 147 Christians, were massacred, and 79 others injured and are recuperating in various hospitals, as a result of yesterday's horrific attack carried out by Al-Shabaab at Garissa University College.
The Evangelical Alliance of Kenya (EAK) condemns, in the strongest term possible this shooting and killing of innocent students, and we echo the voices of other leaders and categorically state that this is unacceptable.
We condole with the families of those who have lost their loved ones, their sons, daughters, relatives. Our prayers are with them during this very difficult period of their lives and we pray that God will comfort them. We also send our condolences to students of the Garissa University College, who lost their friends and colleagues during the unfortunate and regrettable incident. We share your pain and tears. For those who are injured and recuperating in hospitals, we pray that God give you a quick recovery.
We would like to appreciate the swift action of the security forces in responding to the attack and the manner in which they coordinated the rescue of the students that were held hostage. This helped to reduce the death toll.
We are calling on Government to enhance security by employing more resources and security personnel in order to provide adequate security to its citizenry. We are also requesting that there should be enough funding for the security apparatus in our nation, for the acquisition of modern technology and the gathering and dissemination of intelligence and for appropriate training of security personnel, which will enable them deal with terrorism attacks and other threats to Kenya.
As Evangelicals and as Christians at large, this attack has come when we are celebrating and remembering the death and resurrection of our Saviour Jesus Christ. This is yet another blow to the Christians in Kenya, as we have learn that the students massacred were killed because of their faith. Christians and Churches have been targeted by Islamic extremist groups for some years now, we are therefore asking the Government to reassure us of safety and to beef up security in Churches and other places of worship, especially during this Easter Season.
We call on all Kenyans to be calm, and ask them to keep hope alive, for a better day in Kenya is dawning. To all God fearing Kenyans, and Christians at large, to earnestly pray for our nation during this Easter season. EAK will be calling for a National day of Prayer in the next two weeks and date will be communicated later.
GOD BLESS KENYA
Bishop Mark Kariuki
EAK – Board Chair