Is "safe abortion" a solution to reducing maternal mortality?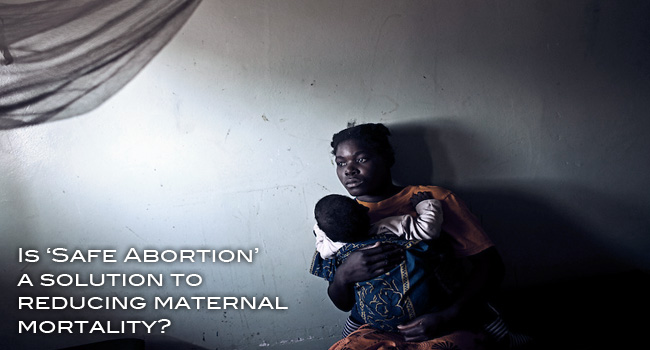 On 18th and 19th June 2013, a regional meeting for Health Ministers was hosted in Nairobi, Kenya. Among the countries represented include Kenya, Malawi, Mali, Nigeria, Sierra Leone and Liberia. Towards the end of the meeting, which had also been attended by Ministers of Gender among other government officials, there was one common ambition: Reducing the maternal mortality rates by increasing the provision of safe abortion. According to the ministers, countries which were providing safe abortions had reduced their maternal mortality rates. They resolved to tackle the problem collectively and individually at country level by examining the laws and providing evidence in order to boost awareness on the issue.

A similar meeting was earlier held in Addis Ababa Ethiopia, in the year 2003. The theme was dubbed "Action to Reduce Maternal Mortality in Africa". The regional meeting which encompassed the attendance of ministers of health, legislators, heads of professional organizations representing gynecologists and lawyers, representatives from regional and national health research and policy institutions, and representatives from the United Nations Population Fund (UNFPA) and the World Health Organization (WHO), was aimed at addressing unsafe abortions and access to abortion-related care.
To our country, this is a dangerous stance which creates a loophole that may allow backstreet practitioners to continue carrying out illegal abortions. Permitting safe abortions does not create a solution per se to the fight against maternal mortality, but rather increases the adversarial effects which include endangering the mother's health.
According to statistics released by Reproductive Health and Rights Alliance and reported by Capital News in July 25th 2012, young girls in Kenya continue to procure unsafe abortions with 16 percent of them being women below 20 years of age. It is further reported that women between the ages of 20 and 34 accounted for another 73 percent of abortions in Kenya. This does not complement maternal health but only shows the degeneration of our society's moral fabrics.

Maternal health cannot be promoted by getting rid of the unborn; rather by ensuring that both the mother and child are safe during and after childbirth. Maternal mortality can only be tackled by examining its causes and coming up with the necessary interventions which do not include killing the unborn child.
Maternal mortality is mainly attributed to hemorrhage, infection, hypertensive disorders, and obstructed labor. Rather than advocating for safe abortion as an intervention, other solutions could be explored to deal with this scourge. Proper medical infrastructure with equipped medical facilities should be adequately provided. Extensive education as well as sensitization on this matter should be increased. It is also necessary to provide proper prenatal care which also includes well trained birth attendants.
Provision of abortion services is not necessary in the fight against maternal mortality. Public education on this matter should be increased to boost awareness especially to women. An educated woman therefore will have the ability to access the appropriate maternal and reproductive health services and understand the information provided to her, thereby reducing her likelihood of maternal death . Best practices should also be emulated from countries which did not embrace abortion but resorted to other interventions and have succeeded in reducing maternal mortality rates.