The Care and Protection of Child Bill 2016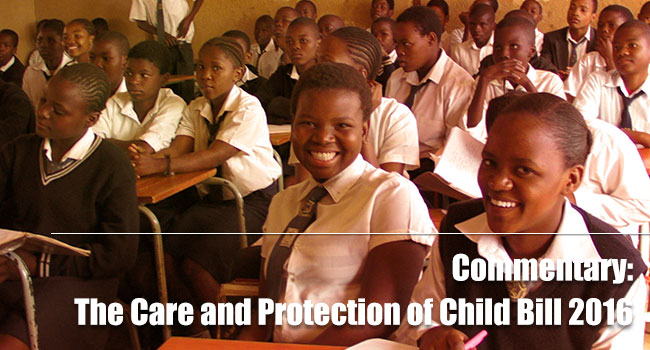 The Care and Protection of Child Bill, 2016, sponsored by Nominated Senator Elizabeth Ongoro is likely to be presented before the Senate when it resumes next week. The Bill is designed to keep pregnant girls in school by providing a legal framework to facilitate a smooth transition for the parent student. It provides that a learner should not be denied her right to education for being expectant. It also advocates that the girl receives adequate support; from the school, family and government to be able to pursue her dreams. Compulsory pregnancy tests are forbidden and if the girl child has a test done and the results turn out to be positive, then the teachers are barred from revealing the results to anyone else, including a student's parents or guardians. The bill states that "A school principal who defies the proposed law will risk being jailed for three years or a fine of Sh. 3 million, or both."
The Bill also seeks to protect school girls who get pregnant against discrimination and stigmatization. It provides that a learner should not be denied her right to education for being expectant, but instead should be given adequate support to pursue her dreams. "Every girl shall have the right to remain in school and receive the necessary support to continue their education and participate fully during their pregnancy or as a parent student", states the bill. The school administrators will be required to ensure that such girls study in a conducive environment without harassment. Mrs. Ongoro said the Bill was necessary in order to prevent stigmatization in schools owing to pregnancy. She went on to add that most pregnant students were victims of discrimination by fellow students and teachers, a situation she argues has led many to drop out of school. The Bill makes sure that the learner will not be forced out of school unless they request to leave of their own will.
Furthermore, once the girl gives birth they will be given a year off to look after the baby but must be readmitted once the period lapses. At home, their parents or guardians will be expected to provide maximum care to ensure that they recuperate faster in order to return to class. The county government will be required to build and maintain care centers that will take care of the school girl's children.
The Bill comes in the wake of increased teenage pregnancies in the country. A recent case is of 22 girls, who were found to be pregnant in a secondary school in Uasin Gishu County. The Principal of the school was quoted saying that the blame lay on the fact that the girls were day scholars. She proposed a solution of building a dormitory to house all students "...so that they don't fall prey to such incidents".
Whereas the sheltering of teenage girls could help in reducing the number of pregnancies, unfortunately, there are more factors at play that will need consideration. According to a recent report by the Kenyan Government and the United Nations Population Fund, 13,000 girls leave school early every year due to pregnancy. The report states that low income, low levels of education and little or no access to contraception and reproductive health are the major factors behind high teenage pregnancy rates in Kenya.
The Reproductive Health Care Bill 2014 proposed access to comprehensive sexual education and provision of contraception to teens from ages 10 to 17 years. It was intended to reduce the high number of teenage pregnancies and engagement in risky sexual behaviors. However, it has been met by opposition from the Kenya Union of Post Primary Education Teachers (KUPPET), The Kenya National Parents and Teachers Association and the Cabinet Secretary of Education, who all claimed the Bill is 'immoral'.
Kenya's high teenage pregnancy rate has resulted in thousands of girls abandoning their education early, stunting the development of nearly half the nation. The high number of cases has been blamed on a multitude of causes, such as early marriage, broken families, rape, peer pressure, inadequate sex education and alcohol and substance abuse.
Kenyan teenage girls are set to remain, for the foreseeable future, as vulnerable as ever, with the media and fast internet providing ready stimulating information for the teenagers. Parents are advised to take time with their children to talk about sex instead of assuming that they are taught about sex and abstinence in school.
Many cases of teenage pregnancies go unreported. Often enough, this because the girl was raped by someone she knows, such as a male relative, teacher, pastor or neighbor. Some of the cases are not reported, however, because of stigma and fear, while others never see the corridors of justice after the administration and police are bribed. This is a very serious consideration that should be included in the Bill.
Other factors, such as, some communities see rape and teenage pregnancy as normal and thus the perpetrator goes unpunished and is merely told to pay a dowry and marry the victim, so that she becomes his wife. This is mostly seen in the pastoral communities where the girls' families value cattle more than looking for justice and early marriage is a common practice.
For the Bill to succeed, there should wide consultation with all stakeholders who include parents, school heads, teachers, student councils, medical practitioners, psychologists and religious leaders. The contributions of all these parties will help to safe guard parental authority, stop the introduction of "adolescent friendly clinics" and Comprehensive Sexual Education, help deal with the issues of stigma and discrimination and also to come up with a noble document that will safe guard the vulnerable teenage girls from early pregnancies.