Churches Burnt In Tanzania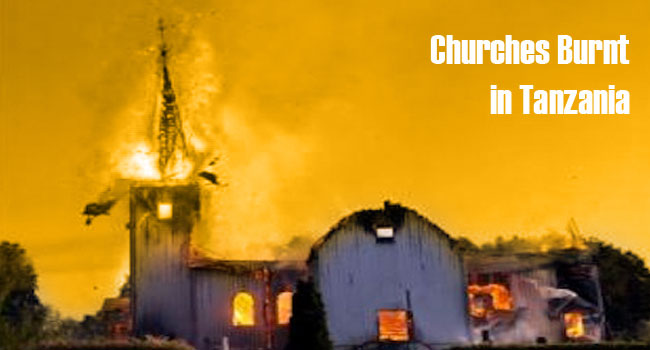 Muslim extremists have burnt two churches in Zanzibar over the weekend. This was in protest over the arrest of their senior members of their UAMSHO movement- a Swahili acronym of its full name, the Association for Islamic Mobilization and Propagation by police on 27th May 2012, as reported by Reuters Africa.
They set fire to one church and burnt it completely and the second one was partially burnt after the police intervened. The leaders of the movement have denied instructing their members to demonstrate in the streets but the police have arrested over 30 of the demonstrators who have turned out to be members of the UAMSHO movement.
There is lots of fear and tension between the Muslims and Christians that has been brought up by the attacks. This is a bad precedence being set and if left unchecked, it might blow out of proportion. This is especially true in a country where Muslims are the majority; we do not want the situation to escalate into another Nigerian scenario.
Zanzibar, a Nation of 1 million people is part of the mainland Tanganyika which they merged in 1964 to form the present day Tanzania and with the coming constitution referendum they want to secede to be a Nation on its own. UAMSHO group has been gaining popularity following the disenchantment of supporters of Zanzibar's main opposition Civic United Front (CUF) party after its decision to form a government of national unity with the ruling Chama Cha Mapinduzi (CCM) party, a move that was not supported by the majority of the Zanzibar people.
There are a number of questions that are coming up out of these attacks; why did the demonstrators turn their anger to the church? Are there underlying issues that need to be resolved? Is this a projection of what will come if the Zanzibar nation is granted autonomy since Muslims are the majority? These and other questions need to be answered so that a lasting solution can be found.
EACLJ condemns these attacks and calls on the government of Tanzania to provide security for Christians and in extension Church property as is guaranteed in the Tanzanian constitution. EACLJ also asks the Tanzanian government to ensure that all religious groups exercise religious tolerance.