Christians attacked in Egypt in Palm Sunday bombings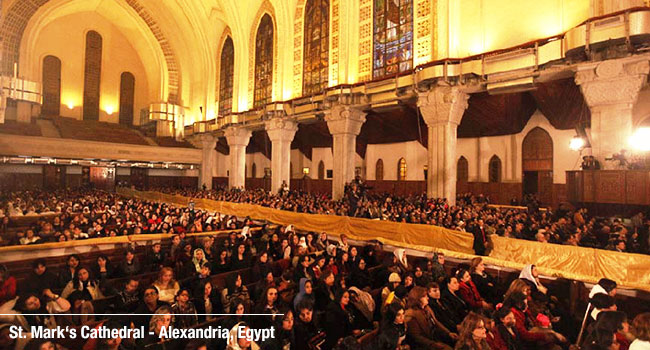 Egypt's President Abdel Fattah el-Sisi has announced a three-month state of emergency in the aftermath of two bomb attacks against two Coptic Churches that have left at least 45 dead and more than 100 injured. The Islamic State (ISIS) has claimed responsibility for the Sunday morning blasts, which are the latest in a series of attacks targeting the Christian minority in Egypt.
Egyptian media reported that the first explosion happened at St. George's Church in Tanta, a town 90kms north of Cairo, leaving 28 dead and 78 injured.  About three hours later, the second explosion ripped through St. Mark's Cathedral in Alexandria, leaving at least 17 dead and 41 injured.
These attacks have taken place in one of the holiest days in the Christian Calendar. Palm Sunday marks the triumphant entry of Jesus Christ into Jerusalem and the start of the Holy Week, which includes Good Friday and Easter Sunday.
The Coptic Christians are the largest religious minority in Egypt with their numbers accounting for about 10% of the population. It is believed that Coptic Christianity was introduced to Egypt by St. Mark when he went to the City of Alexandria a few years after the ascension of the Christ, during the reign of Emperor Claudius of Rome in 42 AD. This makes the Church in Alexandria the oldest Church in Africa. By 300 AD, the majority of Egypt's population was Christian. However, about 300 years later in 641 AD, the Arabs invaded Egypt and established Muslim rule. Christians were relegated to second-class citizens who had to pay special taxes and had little access to political power.
These barbaric attacks are the latest in a series of attacks against Christians in the region. St. Mark's Cathedral was attacked in December by a suicide bomber who managed to kill 29 people during a worship service. A video released later by ISIS declared that Christians were their "first target and favorite prey" and that more bombings would definitely follow. The video called for ISIS followers to target Christians everywhere and ruin their lives. Al Wilayat Sinai, a local affiliate of ISIS began targeting Christian families in the North Sinai Peninsula. Seven Christians were brutally murdered in Al-Arish prompting hundreds of Christians to flee from the coastal town. Whenever there is a disagreement between Christian and Muslim neighbours, it's the Christians who ended up being forcefully evacuated. Any crimes committed against them during this time largely went unpunished.
As a whole, Christians have been increasingly targeted since former President Hosni Mubarak was removed from power in a wave of mass protests back in 2011. The situation worsened in 2013 when Mohammed Morsi, an Islamic President who had been elected, got forcibly removed by the military. Since then, there has been deep anti-Christian sentiment among radicals leading to the rise of militant Islamic groups who feel that Christians are infidels who "empower the West" against Muslims.
Many Christians feel that they are not being given adequate protection as they bear the brunt of their government's fight against terrorism. A number who were interviewed expressed frustration at the Security Forces saying more could have been done to protect the Church on an important day such as this one. According to reports, three policemen were killed as they prevented the suicide bomber from entering the St. Mark's Cathedral in Alexandria. Despite their heroics, Orthodox Christians have been left wondering whether they are safe in Egypt despite their government's pledge to protect them.
In addition to calling for a state of emergency, Egyptian President Abdel-Fattah el-Sisi has ordered the immediate deployment of troops to assist police in protecting vital facilities across the country. United States President Donald Trump has strongly condemned the attacks while expressing "great confidence" that President El-Sisi would "handle the situation properly". Pope Francis also sent his condolences to his counterpart in the Coptic Church, Pope Tawadros II who was actually at the Alexandria Church on the morning of the blast but was unharmed.
Mehmet Gormez, the Head of Religious Affairs in Turkey aptly summed up the situation when he said in an official statement that "the immunity of a place of worship, no matter the religion it belongs to, cannot be violated and the bloodthirsty killing of innocent worshipers cannot ever be forgiven." Terrorism is a shared problem for all of humanity. Our thoughts and prayers are with Egypt and with the families of those affected.