Illegal Abortions on the Rise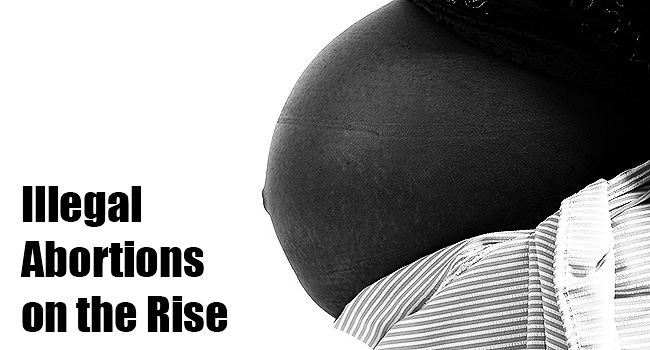 A recent survey has revealed that teenage pregnancies are on the rise. As a result, the Deputy President, William Ruto has issued a warning to chiefs and assistant chiefs across the country saying that they will be held responsible if they fail to identify and arrest men who impregnate teenage girls within their areas of Jurisdiction. The unfortunate thing is that the rise is without a concurrent increase in sexual and reproductive health counseling. Contraceptive accessibility has also been a challenge, adding to increased unwanted pregnancies among other young adults.
Drugs and alcohol abuse, as well as media influence have all played a role in increasing the early sexual activity among young people. Poverty has not helped either as there are more teenage pregnancies in the lower socio-economic groups than in their affluent counterparts. These, plus many other cases have led to rampant cases of abortion. As instances of multiple abortions and misuse of the emergency pill have hit the spotlight in recent past, it is now apparent that students in high-schools and universities are the majority in procuring illegal abortions. It has been reported that in some cases, medical students in universities are assisting their friends from other departments in this dreadful act by providing abortion pills from the hospital and selling them at cheap prices which are pocket friendly to the students. These 'cheap' services come as a relief to the many sexually active and desperate students in the university, as all one needs is to know someone in the faculty of Medicine and their issues are sorted. The situation is further made appealing as students are availed with flexible modes of payments, such as cash or installments that are paid periodically over time.
Article 26(4) of the Constitution states "Abortion is not permitted unless, in the opinion of a trained health professional, there is need for emergency treatment, or the life or health of the mother is in danger, or if permitted by any other written law." However, this is contrary to what is being practiced on the ground. Dealers who own chemists in town, some acting as medical practitioners are selling the abortion pills without much consultation. Misoprostal is one of the drugs in the market being used and has also become endearing to those carrying the "unwanted" pregnancies. The drug was originally meant for curing, among others, peptic ulcers, however when taken in high doses, it induces labour by contracting the uterus.
It has also been brought to the public's attention that there are fraudulent medical doctors and nurses reported to be assisting in conducting illegal abortions and other forms of treatment. They are masquerading as qualified medical practitioners when in reality they may never have stepped in any medical studies class. The situation reflects deterioration in the moral fabrics of society and the high rate of unprofessionalism being perpetrated by the doctors, nurses and pharmacists who are aiding in procuring the illegal abortions.
The government as well as the affected professional bodies ought to carry out thorough investigations so as to apprehend the culprits and bar them from practicing and threatening the lives of unsuspecting members of society. Sexual and reproductive health counseling should also be increased and contraceptives should also be made easily accessible. However civic education should also be conducted on the dangers and consequences of drug abuse, as well as creating awareness on medically proven risks of misusing some of the contraceptive pills.