Meriam Ibrahim Update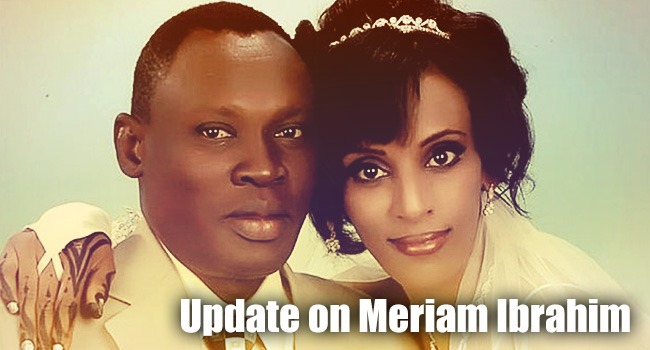 Meriam Ibrahim and her family are currently at the United States Embassy in Khartoum according to various media reports. The 27 year old along with her husband Daniel Wani and two children had been detained at the airport last Tuesday as they tried to leave the country. South Sudanese Daniel Wani, who has been an American Citizen since 2005, said that he decided to take his family to the safety of the American Embassy following death threats directed at his wife. Ms Ibrahim went to the U.S. Embassy on Thursday after police released her from custody.
Meriam Ibrahim had first been released just hours earlier on Monday, 23rd June after a Sudanese Appeals court had lifted her death sentence for renouncing Islam. Ms Ibrahim had been sentenced to hang for Apostasy earlier in May following her marriage to a Christian. Her sentencing sparked a huge outcry both at home and around the world and after her release, she had planned to travel with her family to the United States. Her lawyer has been quoted as saying that her initial release was partly done on condition that she remained in the country. When she was re-arrested at the airport, Sudanese officials claimed that she was using false documents. The South Sudan embassy in Khartoum said that they had issued the family genuine emergency travel documents. Sudanese officials however said that she should have been using a Sudanese passport because she is a Sudanese national. The Sudan National Security and Intelligence Authority has now lodged an official complaint against Ms Ibrahim.
The U.S. State Department spokesperson Marie Harf has said that they are in communication with the Sudanese foreign ministry to ensure that Ms Meriam Ibrahim and her family are free to travel as soon as possible. She added that Ms Ibrahim had all the necessary documents to travel to and enter the United States, and that it was now up to the government of Sudan to allow her to leave the country.
You can sign a petition (click here) to demand for urgent action from the American government and the world community at large to ensure the safety of Meriam Ibrahim and her family.