What Next after 10/06/12?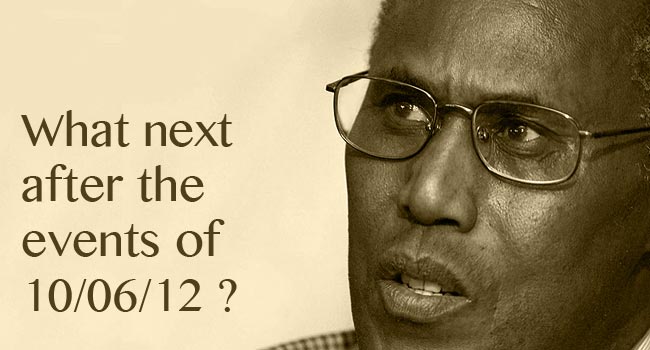 Important Points to Ponder after the events of 10th June 2012
Kenya is in the middle of fighting a war. The war is being fought from within and without. First, there is the involvement of Kenya in the war in neighbouring Somalia. This war has been dragged to Kenya by Al Shabaab insurgents and other copy-cat elements who have been mounting random sporadic attacks, that have the whole country on tenterhooks. Then you have the usual suspects, i.e. Mungiki, SunguSungu, Jeshi la Mzee, Chinkororo, Cattle Rustlers and others who keep our Security Forces fully occupied. Kenya also has to prepare for the next general election. The National Intelligence body has recently indicated that tension is already rising in some areas. In addition to all these, we have the International Criminal Court proceedings, which are currently the subject of a discussion in a conference in the Hague. So the timing of Sunday's helicopter crash could not have come at a worse time for Kenya.
The loss of four officers of the armed forces, one of whom was a trained woman pilot, and the two Ministers Is highly regrettable. Supt. Gituanja was one of Kenya's very highly trained pilots, and belonged to an elite group of female pilots who are rarity in Kenya. Professor Saitoti was Kenya's Minister for Provincial Administration and Internal Security and Orwa Ojode was his deputy. The Minister of Internal Security's participation in the ICC process was vital. He was a facilitator in the Cabinet Sub-Committee tasked with overseeing the ICC process and was therefore a crucial witness. All the evidence collected and documented by the Police and other State organs is kept with the Ministry of Internal Security. The demise of Hon. Ojode and Professor Saitoti means that since those in charge of this crucial Ministry are both gone, some crucial institutional memory is gone with them too.
Losing the Minister and his Assistant at the same time is an extremely unusual situation. It is a mercy that the Permanent Secretary was not also with them. However, questions now arise. Seeing that there is no one in the Ministry capable of answering to Parliament over this ICC matter, who would take over? President Kibaki unfortunately is not spoiled for choice. He has lost many of his generals and allies due to various reasons. Some have passed on, others have resigned and cannot be reinstated while others have displayed signs that they are not too capable. The Internal Security docket is a delicate Ministry. It needs someone with a strong arm and a calm head to run it.
Under the Constitution of Kenya 2010, the President may appoint Cabinet Ministers from outside Parliament. However, this can only be after the next general election. As it stands, there is a problem especially with PNU's side of Government, where some Ministers have dockets while still dealing with other Ministries in an acting capacity. For example, Hon. Jeffa Kingi is in charge of the Ministry of Fisheries while he is also the acting Minister in the Ministry of Industrialisation. Hon. Fred Gumo is in charge of Regional Development but is also currently the acting head of the Ministry of Local Government. This has been a trend in the Kibaki administration. Professor Saitoti was himself recently relieved of acting duties in the Ministry of Foreign Affairs while Hon. Githae was confirmed as the Minister of Finance after being relieved of his Nairobi Metropolitan Ministry. So this raises the question of efficacy. How efficiently can you run your primary ministry, your acting ministry, serve your constituents, be a family man and possibly even run a campaign (elections are due end of this year or beginning next year) at the same time? Kenyans will no doubt start feeling the effect of such ad hoc arrangements.
There is the question of cost to the Kenyan tax payer as well. Kangema constituency is yet to have its by-election. Now following these unfortunate deaths, we have two more coming right up. The next general election is expected to be very expensive, It is tipped to cost over Kes 17 Billion. Regardless, as cash strapped as the IEBC may be, they must now think of organising by-elections even with the next general elections being so near. Kenya needs to adopt better election practises and laws. For example, in every election, the winners and the runners up need to be known clearly, so that if the sitting MP cannot lead by virtue of reasons envisioned in the law (i.e. insanity, bankruptcy, imprisonment of over 6 months or death) then the runner up will automatically ascend to power. This will save the Constituents the agony of not being represented, and it will save the taxpayer millions of shillings that would have been used in running by-elections.
The demise of the two politicians is a blow to Kenya. It does however afford us a unique opportunity to interrogate ourselves in order to find sustainable solutions. Time has also come for discussion on how power should shift if a Ministry is left without any Cabinet member in charge. Finally, a new dawn cannot be ushered soon enough. The President should not be shackled by rules where he/she can only select Cabinet Ministers from Parliamentarians only.
The EACLJ wishes to express our heartfelt condolence to the family and friends of the late Supt. Gituanja, the late Supt. Luke Oyugi, the late Insp. Tonkei, the late Insp. Murimi, the late Hon. Saitoti and the late Hon. Ojode. Their sacrifice for this Nation shall not be forgotten.
Get more of Joy's Musings at joymdivo.blogspot.com